Every year OhioAnts does it's best to ensure you are aware the nuptial flight season is beginning. While verified as not widespread, iNaturalist community contributor 'weecorbie' posted a photo of a Prenolepis imparis colony actively preparing for flight in the southern part of Ohio near Cincinnati. None of the photos show and females preparing to fly but clear shots of drones and workers in the thousands. This is a sure indication that flights could happen today, or within the next few weeks – keep your eyes sharp!
Typically P. imparis flys on their day of consecutive temperatures at or above 68F. Since Southern Ohio typically is warmer than the northern lakeside, they tend to fly there first. If you are not in Southern Ohio, please take the time needed now to prep, as the flights should happen soon in all of Ohio!
If you recognize or collect any queens please be sure to let our community know by visiting our forums, or discord channel to share the good news!
Community
Live Discord Chat
On another front, as the Ohio Ant season begins, I want to take the time to share a few projects currently happening in our growing community. Our most used communication tool is a free chat service called "Discord" – I am happy to announce that our almost exclusive Ohio based discord now has 136 members. That means the chances of finding someone else close to you to feed your ant husbandry addiction is very high.
You can join our discord community here – https://discord.gg/MFYqTkF Discord provides applications for every platform, including phones, PC's and Mac.
Forums
If the live chat is not your thing, we have a great forum that contains superb content. Join here for free and introduce your self https://ohioants.com/forum/
The forum software also contains two major features to call out, One is our Ant Species Gallery. OhioAnts community members have done a great job identifying and posting photos of many of out Ohio native species. This will give you a great way to help identify the ants you are collecting!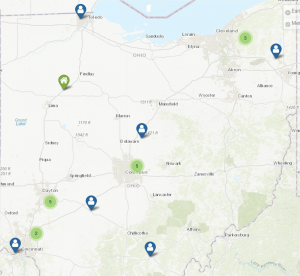 Lastly, I want to mention out Member Map, this is a tool that allows members to self identify and share their general location. This is a great way to see who is around you and to plan for potential anting trips. If you have never collected ants before, it can be incredibly useful to go on anting trips, or black-light collection evening to help find your next queen and colony. We are after all all about community at OhioAnts!
iNaturalist
OhioAnts is also investing more of our time and community into the iNaturalist Community where we have our own project; https://www.inaturalist.org/projects/ohio-ants. iNaturalist is a community design and centered around exploring and capture photos of the world around you for identification and study. Our partnership allows us to collect more information from individuals outside our OhioAnts community and gives additional outlets for finding others and encouraging them to join our community and explore ant-keeping past the antiquated idea of Uncle Milton's ant farms.
One of the most impressive features of iNaturalist, and a tool we are encouraging members to use is the iNaturalist app that has computer vision to help identify the photos you are uploading. A major benefit is the iNaturalist app will also use metadata in your phone to further automatically tag and locate the position of your photo adding important information for scientific study.
OhioAnts is starting to use data collected through iNaturalist accessible through an API to further increase the data information on our website and to help the community.
Great Things Coming…
Wow, there is a ton of things happening in our community, and I wanted to tease a few other things in the works or just starting to take shape.
Our Very Own Discord Bot
Open Source Formicarium Projects (Aka Free Downloadable Designs)
Quick Identification Tool
Detailed Ohio Species ant Website – Showing species, care, collection locations, and MUCH much more.
I appreciate our entire community and the involvement in modern ant husbandry and the scientific research we are contributing. I am expecting this year our fourth year of existence to be a breakout year for OhioAnts. Join us on any our of our channel and keep those ants!